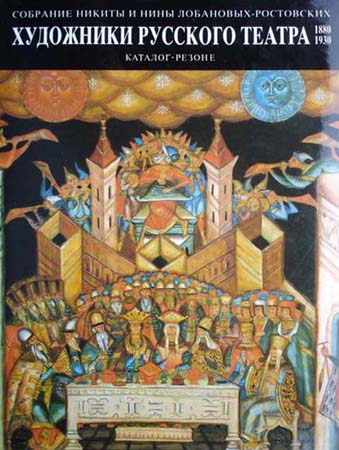 John E.Bowlt. N.D.Lobanov-Rostovsky.

Catalogue-raisonné Khudozhniki Russkogo Teatra. 1880-1930. Sobranie Nikity i Niny Lobanovykh-Rostovskikh.

Catalogue-raisonne Painter's of russian theatre. 1880-1930. Collection of Nikita and Nina Lobanov-Rostovsky. (Russian).

Catalogue-resoune. 528pp (with colour illustrations), also 1026 black and white illustrations, 156 colour illustration's. 1994. The book is in new condition, never used. This book for sale with delivered (price and terms of delivered specify at us).

The author's: John Bowlt, N.D. Lobanov-Rostovsky (well-known collector).

Illustrations: 1026 black and white illustrations, 156 color illustration's. (actually pages are numerated up to 420 plus 126 pages with color illustrations).

This book is latest publisher and have full collection of

Nikita and Nina Lobanov-Rostovsky

The book is in new condition, never used.

Book for sale. Price: US $150 + US $25 shipping (by air parcel)
Size

Length:

528 pages (with illustrations)

Height:

298 mm / 11,74 in.

Width:

230 mm / 9,06 in.

Thickness:

49 mm / 1,93 in.

Weight:

2,24 kg
Artworks of following artists are described in this book: AIZENBERG Nina, AKIMOV Nilolay, ALTMAN Natan, ANISFELD Boris, ANDREENKO-NECHITAYLO Mihail, ARNSHTAM Alexander, ARONSON Boris, BAKST Lev, BELOBORODOV Andrey, BENUA Alexander, BENUA Nikolay, BERMAN Eugeniy, BEHTEEV Vladimir, BILIBIN Alexander, BILIBIN Ivan, BILINSKY Boris, BOGOMAZOV Alexander, BRAILOVSKY Leonid, BRUNI Tatiana, BURLIUK David, BUSHEN David, VASILIEVA Maria, VEREYSKIY Georgiy, VESNIN Alexander, VRUBEL Mihail, VIALOV Konstantine, GABO Naum, GAMREKELI Irakliy, GAN Alexey, GOLOVIN Alexander, GONTCHAROVA Natalia, GRIGORIEV Boris, GRIGORIEV Pavel, GUDIASHVILI Lado (Vladimir), DELAUNAY Sonia, DENISOVSKY Nikolay, DMITRIEV Vladimir, DMITRIEV Pavel, DOBUZHINSKY Mstislav, DUNKEL' Evgeniy, ERMOLAEVA Vera, ZHEDRINSKIY Vladimir, ZAK Leon, ZDANEVICH Il'ia, ZDANEVICH Kiril, KALMAKOV Nikolay, KISILEV Victor, KOZLINSKIY Vladimir, KOMARDENKOV Vasily, KOROVIN Alexey, KOSTIN Sergey, KUDRIASHEV Ivan, KUZNECOV Pavel, KUL'BIN Nikolay, KUSTODIEV Boris, LAMBIN Petr, LANSERE Eugenii, LAPIN Lev, LARIONOV Mihail, LEBEDEV Vladimir, LEVIN Moisei, LENTULOV Aristarh, LIBAKOV Mihail, LISIM Simon, LISSITZKY L., MALEVICH Kazimir, MALIAVIN Philip, MEDUNECKY Konstantin, MELLER Vadim, MILLER Grigorii, MUHINA Vera, NIVINSKY Ignatii, PASTERNAK, PETRITSKY, PESTEL', PETROV-VODKIN, POPOVA, PUNI, I.RABINOVICH, REMIZOV, RERIH, RODCHENKO, ROZANOVA, SARIAN, SOMOV, V.&G. STENBERGI, STEPANOVA, SUDEIKIN, TATLIN, TELINGATER, TYSHLER, UDAL'COVA, FILONOV, KHVOSTENKO-KHVOSTOV, HODASEVICH, CHELISZHEV, CHEHONIN, SHAGAL, SHLEPIANOV, SHUHAEV, EXTER, ERDMAN, UON, IAKOVLEV, IAKULOV & ETC.